Walking up to Pow Wow Cafe is grossly underwhelming. The tiny brick building in Kensington Market would stand out to no one without seeking it out. Seating no more than 12 inside, with an additional 20 outside, this small-but-mighty restaurant doesn't even have a website. Have to pee? You'll have to take a walk through the kitchen to get to the bathroom. What counts is the food, though, serving up massive portions of Indigenous-inspired grub like fry bread tacos and chilli with cedar or strawberry soda, all ordered off of a wooden plank menu. If you're in the area, this is a most unique restaurant that you should check out.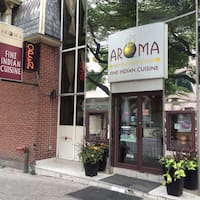 Aroma Fine Indian Cuisine is our favourite Indian restaurants thus far. Located not far from our house on King St. W., we choose it for the quick lunch buffet or order via Foodora (or Just Eat or Uber Eats). They offer a variety of typical North American Indian food such as samosas, pakoras, tandooris, masalas and kormas alongside basmati rice and naan. The service both inside and for take out is friendly and efficient and the quality is high either way too. If you're looking for authenticity, maybe look a little harder, but for crowd-pleasing, easy-eating Indian, I highly recommend.
fans of the original Jimmy's Coffee at 107 Portland St., it was an exciting month; they opened an additional location right across the street (107 Portland St.). Here is a larger, roomier version with two stories, two patios and nitro cold brew. We frequented this location this month and so it gets a big shout out on this list. With every espresso-based beverage, they offer a one or two shot option at no extra charge and the nitro cold brew is smooth, light and refreshing for the summer. This location also features affagato ice cream!
Cactus Club on King St. W. was a surprising find a few months ago for, most notably, their cocktails. They are stellar, though not incredibly inventive, and come from a splendid second floor oval bar in the middle of the room. They have a constant selection of more than a dozen different creations so you are sure to find something you like. Served in the appropriate glassware, each beverage is garnished with their respective pieces of fresh fruit, berries, herbs or preserves. For those that appreciate it, they are participating the the straw-less initiative with all of their drinks. The food is upscale bar food meets steakhouse with fries, flatbread, calamari, burgers, duck clubhouse, and chargrilled steak. They also feature happy hour every day from 2pm to 5pm and Monday to Thursday after 10pm.
Pain Dore frozen croissants (available at Costco) are a guilty pleasure of mine, not because they're expensive (because they're not) and not because they're unhealthy (even though they are), but because they are no more than the common, ordinary type of good that you would expect to find from ready-to-bake frozen croissants. They're fluffy and buttery and they doom you for hunger not two hours post-consumption, but they are so satisfying for breakfast topped with a tart berry jam or housing a ham and cheese sandwich. For quality, French-style croissants, buy freshly-baked from a good bakery. On a Saturday morning, with zero desire to get out of my pyjamas, these ready-to-bakes are wonderful.
Among the go-to meals Matt and I make at home, veggie curry is a big favourite. We make it different every time with a house-blend (a.k.a. approximated ratio of shakes) of garam masala, ginger, chilli powder, cumin and cayenne with coconut milk and whatever veggies we are feeling that day. Other times, if we are extraordinarily lazy or if we're rushing, we will use KFI Butter Chicken sauce that we get from Costco which is pretty good too. Also from Costco, we always keep their brown basmati rice for curry days as well as the large packs of naan that we shove in the freezer for added keep time.
My K-Cup, the attachment for a Keurig coffee machine that allows you to brew your own coffee grounds, has become a favourite this month after trying the Costco-sized bag of Starbucks French roast whole coffee beans. Armed with an automatic coffee grinder, we decided to save some cash – and the environment – from 60 cent coffee pods and grind our own 30 cent cup instead. The flavour is richer and brighter with freshly ground beans anyway, and we can still just brew one cup at a time. Win-win-win.
As a random style item, my H&M mini denim skirt was a new addition to my wardrobe this month and, even for someone not very into shorts and skirts, it is remarkably comfortable. It's stretchy with a raw hem, shorter in the front than the back, but not too short so not super restricting and I can wear it with my sneakers or any sandal. I especially like it with a logo t-shirt like my Cowbell or Red Hot Chilli Peppers t-shirt or a loose blouse tucked in the front. Great summer essential!
Crate 61 Organics Lip Balm in Coconut and Vanilla has saved my lips from the dry winter damage. As someone with constant lip cracking, peeling and bleeding, I am always on the lookout for a good chapstick to wear at work, overnight and underneath any other lip colour or gloss application. This has transformed my lips from their usual chapped state to soft, smooth and comfortable 24/7. I keep one of these in the bathroom, beside my bed, on my desk, in my bag and in my pocket at work. The only downside is that there is no SPF so if I'm headed outside for a prolonged period of time, I layer an SPF lip balm on top.
It was actually the end of May we bought our new Vizio 55" 4K TV but it has officially become a favourite now. Our 12-year-old, hand-me-down, 40" didn't stand a chance, really. When I realized that I really couldn't see the score in the baseball game without my glasses on, I knew it was time to upgrade. Matt only wanted a 50", thinking even that might look too big in our space, but I pushed for 55" so maybe it will be more sizeable in a different space in the future. Anyway, it's bigger, crystal clear and smart enough for Netflix and YouTube so we are very happy with it.
And that's it for our favourites of June. Till next time.
Please follow and like us: